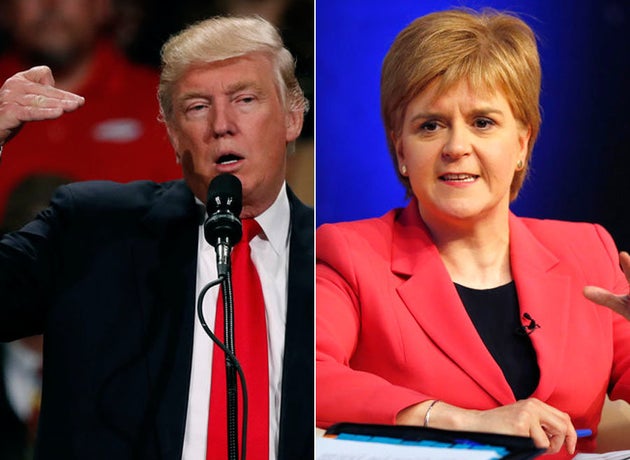 Nicola Ferguson Sturgeon is a Scottish politician who is the fifth and current First Minister of Scotland and the leader of the Scottish National Party, in office since 2014. She is the first woman to hold either position.
In the past, Sturgeon faced criticism for endorsing Hillary Clinton during the U.S. presidential election. But a day after issuing a statement congratulating Donald Trump as "a brief introductory conversation," she stood by her earlier criticism of the president-elect, saying that she would have felt guilty saying nothing in the face Trump's "deeply abhorrent" rhetoric.
Trump's election has an impact on all parts of the world but carries special significance in Scotland where Trump has ownership interests in business properties there, including two golf courses and a wind farm development off the coast of his Aberdeenshire course.
He has had a volatile relationship with locals and with the former first minister Alex Salmond, as well as engaging in a lengthy legal wrangle over the wind farm development and other aspects of the golf courses.
OUR FREE OPINION
Sturgeon's call, notwithstanding, should not be interpreted as anything but a courtesy call given her recent pronouncements on Trump's moral compass. As the New York Times reports, she expressed misgivings about Trump's election stating she was "not prepared to be a politician that maintains a diplomatic silence in the face of racism, misogyny or hatred of any kind."
Last year, Sturgeon stripped Trump of his honorary role as a Scottish business ambassador after his attack on Mexicans and Muslims, describing his rhetoric as "obnoxious and offensive."
We think many world leaders based on a sense of diplomatic devoir are congratulating Trump but their words have little bona fide sincerity.