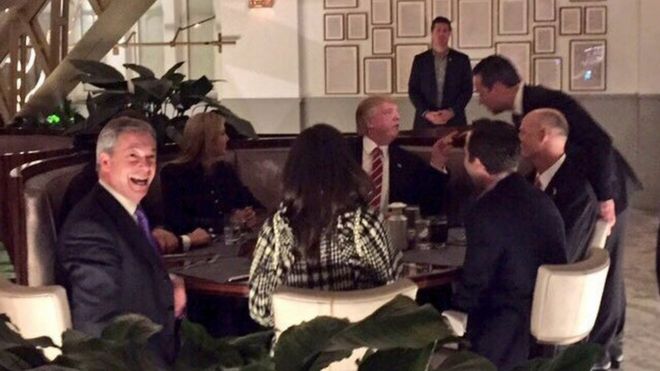 Nigel Paul Farage, leader of the UK Independence Party from 2006 to 2009 and again from 2010 to 2016, had dinner with President Trump this week. 
Farage spoke at the Conservative Political Action Conference earlier this week and said that the UK's decision to leave the European Union had begun a movement that would spread across the globe.
 Farage earlier backed the president's recent criticisms of the media. He told Fox News the media is "losing this battle big time." About the media, he said, "They are simply not prepared to accept that Brexit happened, that Trump happened. They kind of want to turn the clock back and what they don't realize is they are losing viewers, they are losing listeners."  
OUR FREE OPINION
President Trump's low opinion of the press spawned from the negative and biased reporting he received from major publications and broadcasters throughout his campaign, and that continues. Occupants of the White House have frequently waged similar battles over the years and have used various methods to bypass the press: President Roosevelt's"fireside chats" comes to mind. Technology has changed. President Trump now uses Twitter and other social media to get his message directly to the people. We see nothing wrong with his approach.