President Trump's announcement that he is delaying a decision on allowing elephant hunting trophies from Zimbabwe is good news.  Hunters and owners of entities that promote the killing of elephants through organized hunting affairs were immediately angry– no doubt because of the potential loss of money.
The Trump administration announced it would reverse a ban on trophy imports from Zimbabwe that had been imposed by the Obama administration. Two days later, however, Trump tweeted that elephant hunting is a "horror show" and suggested he would maintain the ban.
Supporters of the killing of elephants maintain that the fees charged trickle down to the local managers of wildlife in their areas. There is no reliable proof to support this contention. Instead, it appears to be a pure profit scenario at the cost of losing some of the world's most magnificent animals. We applaud President Trump for keeping the ban.
Awhile back, we wrote the following about the Trump boys. We are pleased that the President thinks differently about the killing of elephants and other creatures.
When Hillary Clinton was campaigning in Las Vegas today, animal rights activists showed up and started yelling at her. Afer the secret service got things under control, an apparently frightened and alarmed Clinton managed to throw out a quick quip: She said: "These people must be here to protest [Donald] Trump — he and his kids have killed a lot of animals." We wondered what she meant and did a little digging. We came up with these pictures. The pictures appeared in an article in  Rawstory and elsewhere.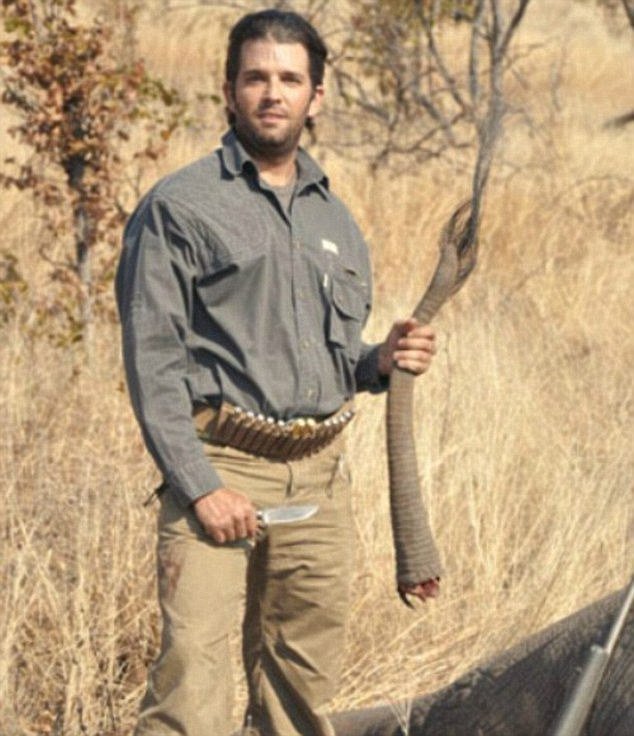 The Daily News reported that the Trump brothers, Donald Jr. and Eric, went on a hunting trip where they "snapped photos of themselves with enormous dead animals they took down." The report goes on to state, "The eldest Trump son also took to Twitter to respond to a flurry of angered messages from fans. "I'm a hunter, for that, I make no apologies," he wrote. "I can assure you it was not wasteful. . . . The villagers were so happy for the meat which they don't often get to eat."
"In some parts, it's overpopulated," he said of elephants in africa. "Bottom line with out hunters $ there wouldn't be much left of Africa. Eco is nice but no $" (sic)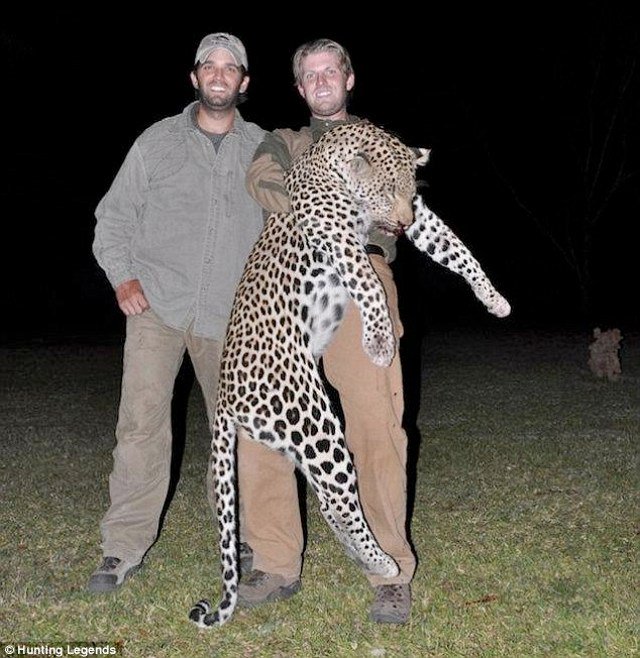 We think the Trump boys deserve cries of outrage over the killing of these defenseless animals. How could their acts be considered sportsmanship– An 8-year-old could shoot and kill these beautiful creatures.