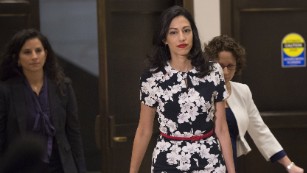 FBI Director James Comey announced the FBI will investigate whether there is classified information in newly discovered emails that appear to be related to their probe of Hillary Clinton's email practices. The emails being examined are part of an investigation into Anthony Weiner, according to law enforcement sources. Weiner, the disgraced former congressman, recently separated from top Clinton aide Huma Abedin after a sexting incident.
Comey said in a letter to members of a congressional committee Friday that investigators are examining newly discovered emails that "appear to be pertinent" to the email probe. "Although the FBI cannot yet assess whether or not this material may be significant, and I cannot predict how long it will take us to complete this additional work, I believe it is important to update your Committees about our efforts in light of my previous testimony," reads the letter to the leaders of various congressional committees.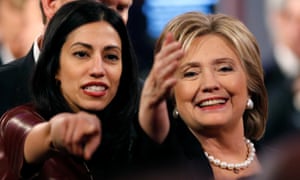 The emails, numbering more than 1,000, were found on a computer used by both Weiner (D-N.Y.) and his wife, top Clinton aide Huma Abedin, according to law enforcement officials
OUR FREE OPINION
The email investigation is not good news for Hillary Clinton. The race between her and Donald Trump was already showing signs that the contest was tightening between the two. If Clinton were indicted after being elected, Tim Kaine would assume her position as President. That prospect does not sit well with most Independents: This latest news clearly will cause Clinton to lose votes among this crucial group of voters.