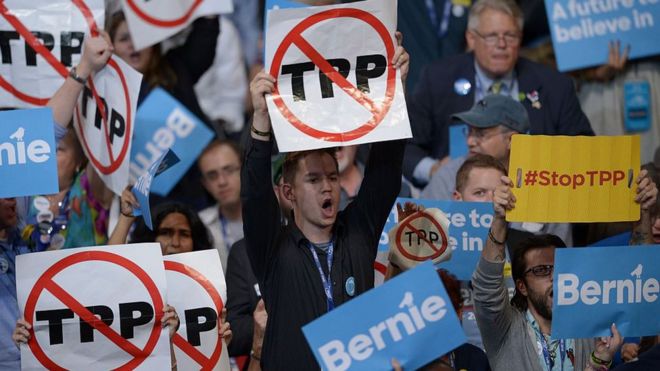 WHY TPP WOULD HURT THE AVERAGE AMERICAN CONSUMER
What is TPP? It's called the Trans-Pacific Partnership or TPP. It involves 12 countries: the US, Japan, Malaysia, Vietnam, Singapore, Brunei, Australia, New Zealand, Canada, Mexico, Chile, and Peru. Conspicuously, China is not included. The goal of the membership is to further economic ties between these nations, slashing tariffs and fostering trade to boost growth. The pact has not been ratified and has no effect for now. If confirmed, the agreement could create a new single market larger than the EU. TPP would hurt the average American consumer.
TPP IS A CORRUPT SYSTEM HILLARY CLINTON SUPPORTED
Critics say the deals are being cut in private smoke-filled rooms, and they are right. Some of America's largest corporations and Wall Street's biggest banks are trying to sneak the secret deals into a formal agreement so that they can profit immensely. Drug companies will increase their profits through stronger patent protections, and by keeping generic drugs off of the market until after the uneven playing field has been saturated with the major pharmaceutical brands.
The bankers and pharmaceutical companies would also have a special tribunal consisting of private attorneys who could order money as compensation for any "unjust expropriation" of foreign assets.
CLINTON LIES AT THE DEBATE ABOUT HER SUPPORT FOR TPP
Last night at the debate, Donald Trump said Hillary Clinton had supported TPP up until she figured out that Trump's and Bernie Sander's opposition to the pact was popular among voters. Clinton denied that she ever called TPP the "Gold Standard" in trade agreements. But, Clinton clearly lied about this– see here.
Trump: "You called it [TPP] the gold standard. You called it the gold standard of trade deals. You said it was the finest deal you've ever seen. You heard what I said about it, and you were against it."
Clinton: "Donald, I know you live in your own reality, but that is not the facts. The facts are I did say, I hoped it would be a good deal. But when it was negotiated, which I was not responsible for, I concluded it wasn't."
However, Clinton plainly lied.