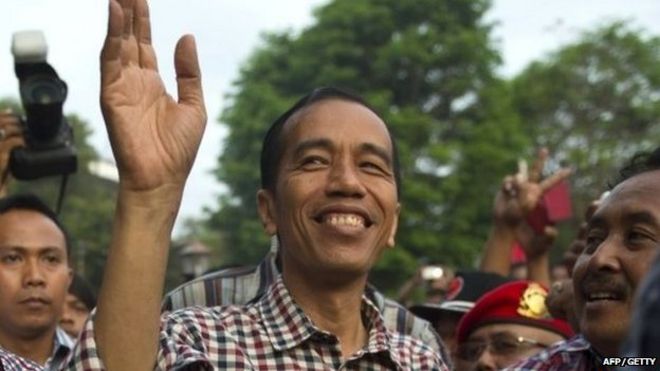 Joko Widodo, President of Indonesia, using executions to show "He is a Man of Action" to fight off declining public support.
The Indonesian government, under the unstable "leadership" of President, Joko Widodo, slaughtered 8 inmates today outside the gates of Pasir Putih prison on the island of Nusa Kambangan. The executions were carried out despite pleas from emotional family members and foreign government officials, and a growing body of evidence suggesting the defendants may not have been guilty. There was also evidence of corruption. One of those killed, Rodrigo Gularte (42), had a history of schizophrenia and bipolar disorder since his childhood. Father Charlie Burrows said that Rodrigo was so far gone mentally that he was hearing voices and did not even understand that he was being shot by a firing squad. The voices were very real Burrows said, and he told him that he was not going to be executed and "I'm going to Brazil in a year's time". There was an accusation that one of the trial judges had offered a lighter sentence in exchange for a bribe in the Silvester Obiekwe (47) case. There was an identical claim that the judge in the Andrew Chan (31) case had offered a lighter sentence in exchange for a bribe. In total, the dead included two Australians, four Nigerian men, one man from Brazil and one from Indonesia. Australian Prime Minister, Tony Abbott, has been criticized for not doing enough to stop the executions. It is unclear what sanctions the Australian, Nigerian and Brazilian governments will take because of Widodo's failure to ensure fair and honest prosecutions for those executed.  Widodo has been accused by experts of making up drug death statistics to gain favor with the Indonesian populace. Others believe he refused to halt the faulty executions because he was being perceived as being indecisive and needed to prove that he was a man of action to improve his faltering popularity. He has openly declared that he will not grant clemency to convicted drug dealers even though the purpose for presidential clemency is to examine each person on a case-by-case basis to see if prison has changed the person.
The prisoners were forced to walk into a remote jungle location and were clad in special white suits  and then shot in the heart. Just before the executions, family members were permitted to meet with the condemned humans to say goodbye. "It was torture", one family member said. Other family members wept uncontrollably as they begged for clemency- before deaf ears.