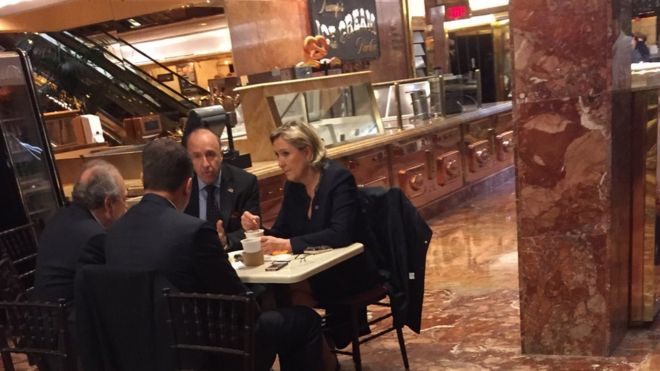 Marine Le Pen was spotted visiting with three men in Trump Towers this week. However, it was unclear whether she had a scheduled meeting with the President-elect or was just hanging out.
Le Pen is a major candidate for President of France. She faces the first round of voting in April against former Prime Minister Francois Fillon and Socialist Prime Minister Manuel Valls. After this voting takes place, the matter will proceed to a run-off election.
Trump officials have not confirmed whether any meetings between the two similarly minded politicians is in the cards. In the past, Le Pen said Trump's election was "an additional stone in the building of a new world."
OUR FREE OPINION
One thing is clear, if the trend of voter discomfort with politics as usual continues across the world, Le Pen's odds of winning the top prize will increase. Trump's atypical campaign and his refusal to accept criticism without substantiation or purposeful examination bode well in the public eye: A growing majority of voters are tired of politicians giving standard answers as they test the direction of the political winds before they answer. Le Pen need only duplicate Trump's blueprint for victory to fair well in her election.