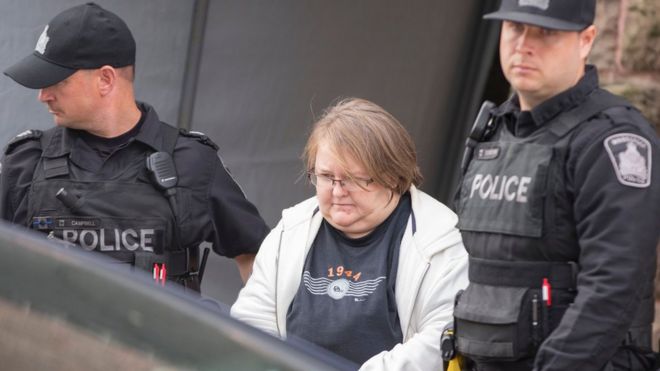 A 49-year-old nursing home worker in Ontario has been charged with eight counts of first-degree murder occurring between 2007 and 2014. Many of the victims are believed to have succumbed to fatal drug doses.
Elizabeth Tracey Mae Wettlaufer, of Woodstock, Ontario, appeared in court on Tuesday morning. The victims were elderly residents of two long-term care facilities where Ms. Wettlaufer worked. They were between 75 and 96 years old.
The victims were identified by the star.com as:
James (Jim) Silcox, 84, who died Aug. 17, 2007. He was a Second World War veteran of the Royal Canadian Army Service Corps. The former Standard Tube worker was a married father of six
Maurice (Moe) Granat, 84, who died Dec. 23, 2007. He was a father of two
Gladys Millard, 87, who died Oct. 14, 2011. She was a widowed mother of two, and a longtime member of Knox Presbyterian Church and member of the Rose Rebekah Lodge in Woodstock
Helen Matheson, 95, who died Oct. 27, 2011. She was a widowed mother of two sons, and a longtime United Church member in Innerkip
Mary Zurawinski, 96, who died Nov. 7, 2011
Helen Young, 90, who died July 14, 2013
Maureen Pickering, 79, who died Mar. 28, 2014. She was a widow and former native of Tillsonburg
Arpad Horvath, 75, who died Aug. 31, 2014. He was a married father of two, owner of Central Tool and Die of London, Ont., and active in the local Hungarian club.
All of the victims, except for Horvath, were patients at the Caressant Care facility in Woodstock, while Horvath was being treated in the Meadow Park facility in London.
Anthony Cuzzocrea, a financial adviser and founder of Planmar Financial Group in London, Ont. Said he has been a friend of Arpad Horvath for decades.
CityNews reported Wettlaufer's work experience to include the following::
September 2016: Resigned as a Registered Nurse
2014: Registered Nurse at Meadow Park in London, Ontario
At least from 2007 to 2014 – Registered Nurse at Caressant Care Nursing & Retirement Homes Limited in Woodstock, Ontario


"Assessing patients Administering medications. Performing prescribed treatments. Communicating with patients, families and healthcare professionals. Supervising care staff. Generating and maintaining patient care plans. Updating patient charts. Processing Dr's orders,"

as posted on Linkedin.

Dates unknown: Lifeguard Homecare
2007: Support Worker at Christian Horizons in Woodstock, Ontario
1995: Registered Nurse with the College of Nurses of Ontario