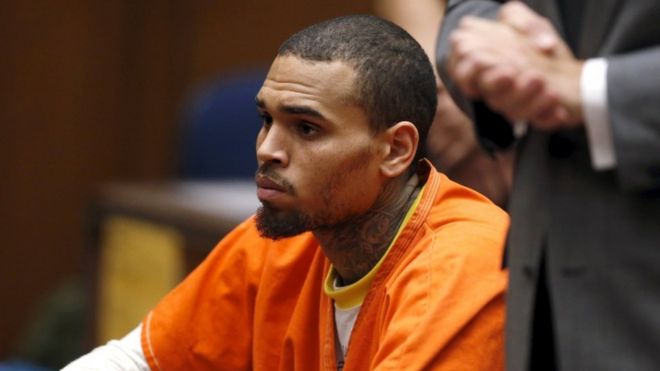 Chris Brown was sentenced to 5 years probation for a domestic assault case.
The US singer Chris Brown likely may not be performing at his scheduled gigs for December in Australia. He has had his visa application to tour in Australia formally denied on character grounds. He has 28 days to appeal this decision. Brown pleaded guilty to viciously attacking his then-girlfriend, the pop singer Rihanna, in 2009. The new minister for women, Michaelia Cash, has indicated that US singer Chris Brown may not be allowed into Australia due to assault convictions stemming from this incident. Cash said, " People need to understand, if you are going to commit domestic violence and you want to travel around the world, there are going to be countries that say to you, you cannot come in because you are not of the character that we expect in Australia".
Meanwhile, a petition was being circulated calling for a denial of Brown's admission into the country. The petition read in part: "If we stand by and do nothing while he performs around the country … we are implicitly sending the message that if you brutally beat a woman, in a short amount of time you will be forgiven, or even celebrated". Approximately 10,000 signatures had been obtained by Thursday of last week.
DOMESTIC ASSAULT IS SERIOUS BUSINESS AND HAS SERIOUS CONSEQUENCES.
Following a plea or conviction for domestic assault, the offender faces greater consequences than a possible loss of liberty, fines, treatment or probation. The crime now receives unique treatment as a result of new federal and state laws. The punishment is increased for each subsequent offense. A first offense may start out as a misdemeanor, subsequent convictions turn into gross misdemeanors and felonies. (NOTE: Misdemeanor domestic assaults are not to be confused with assaults on a domestic partner with more serious injuries—such assaults may be charged as felonies from the start). Defendants may lose child custody privileges, property distribution shares, driving privileges, employment opportunities, housing opportunities and the right to possess weapons (In some states, if a person who has been convicted of domestic assault, is caught possessing a weapon, he or she may face a five-year mandatory prison sentence!). And of course, foreign countries are free to deny people who have domestic assault convictions admission into their country.
IS THE BROWN CASE FAIR?
Brown has visited Australia twice since his 2009 conviction. It is unclear whether the newly appointed Cash is merely acting out on her personal agenda in this case.It is hard to imagine how Brown's presence in the country, as a singer impacts the concern over domestic violence in this rough-and-tumble country. Some critics think race may be involved. Given the apparent egregious assault, and recentness of the offense, the Minister's decision appears to be valid– unless Brown's race is a real factor. If he appeals, some of these factors may be relevant. We would remove the bar after ten years from the date probation has expired.