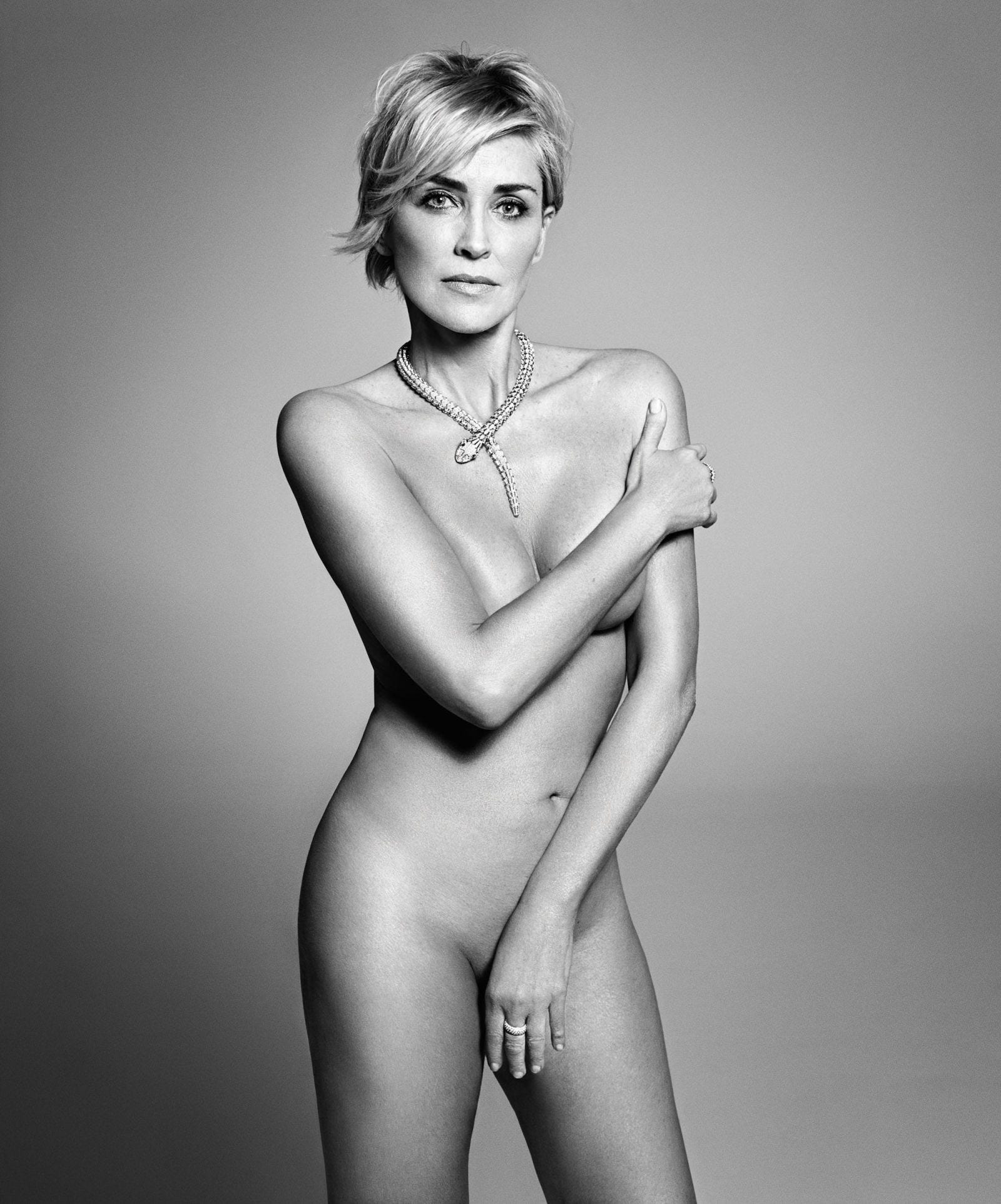 Arguably, one of the sexiest scenes in American cinematography occurs when Sharon Stone is being questioned by a bunch of mesmerized detectives in connection with a brutal murder where a man was stabbed 31 times with an ice pick in the movie, "Basic Instinct." When she was told by one of the men "that she liked playing games," she replied, "It's nice." Her allure is simply amazing as she crosses and uncrosses her legs allowing the men a glimpse of her coochy (there is a difference in opinion as to whether it is the real deal, we think it is). Stone was 34 when the film hit the big screens in 1992. Now at 57, she is looking as hot as ever as she poses nude in a cover shoot for Harper's Bazaar. An article in the Mirror also reports that:
["Sharon opened up about her devastating 2001 stroke and the long recovery she had to endure – admitting she now uses fillers instead of plastic surgery, having started shortly after the stroke caused damage to her face.
Sharon was in intensive care for nine days, and it took another two years to learn to walk and talk again – with her even suffering a stutter for long afterward."]
Sharon explains why she may seem a bit taciturn at times, but actually, she is still recovering from a brain aneurysm or hemorrhage that has taken her many years to substantially overcome, even as she is still experiencing some of the effects. She talks about elliptical experiences, and how it gives her the feeling that her DNA has changed, and it is if "my brain isn't sitting where it used to, my body type changed, and even my food allergies are different." She is proud of her recovery from the near death experience and takes the time to unabashedly honor other stroke victims, mindful of her trying times.
Reflecting back on her famous leg-crossing scene, she once said "I think there is a need for closure," and then referenced how many hundreds of thousands of times the scene had been freeze-framed by men.
She then convivially concluded that she was, of course, referring to the scene in the movie that depicted Michael Douglas's bare ass. Always armed with wit, and forever beautiful, Sharon Stone remains a exquisite woman, in looks, and otherwise.
Contact Writer at: voice@ourfreeopinions.com
Click if you need a leading Criminal Defense Lawyer with an established record of defending people charged with serious crimes.